Step-by-Step Guide to Get Google Adsense Account Approval-2023
Disclosure: This post may include affiliate links and images that we may receive compensation if you click on the link and purchase, at no cost to you.
Updated 07/06/2023
Are you recently just starting a blog? then you must spend time searching for different passive income approaches, which may help to cover the cost of running a website, and in the long run, you may scale up the business to the next level.
As a blogging beginner, Google Adsense is among the best contextual advertising networks, which allows a blogger to monetize content by displaying different types of ads on their website and making money online.
The process of getting approval is not too complicated as you think. The platform will review and accept the application once your blog has met all the requirements.
The following are several steps to help publishers understand the Google account approval process. You should continue to read each section in more detail before applying and making money with the network.
Key Points
Google Adsense has created some changes to the application process.

A step-by-step guide to help you get instant approval from Google.

Sever tips to avoid Adsense account suspended or terminated, always follow the program policy guidelines.

Ensure your site is not under construction and must have unique and quality content.
What is Google Adsense?
Google Adsense is among the top contextual advertising network, which attracts millions of publishers and advertisers to the platform. Basically, the Adsense platform is one of the subsidiary businesses, which is managed under the umbrella of Google, a parent company.
Since being established 18 years ago, Adsense continues to innovate and become the leading advertising network that has more than 2 million customers worldwide. 
In terms of revenue, Adsense is also a big player contributing to the overall revenue of the parent company, Google. In particular, during the first quarter result of 2014, Adsense revenue accounted for around 22% of the total revenue of Google.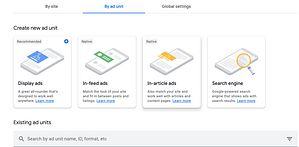 The advertising platform is considered an ideal solution for blogging beginners to monetize their content and make decent passive income over time. Publishers have different ad options such as ads by unit, ads by site, and auto ads to ensure they make money based on impression or per click.
How does Google Adsense work?
The above picture shows how the platform works in three simple steps for publishers.
Google Adsense has several ad options for publishers to monetize their content, which allows users to place the ads code on their blog and make money from those ads. In particular, the platform will show relevant ads on publishers' blogs based on their content.
Recently, Google Adsense has made some changes to the application process, which make it even easier for bloggers to monetize with them. In particular, it normally takes up to 2 weeks to get approval for the platform, but sometimes publishers may receive instant acceptance within 2 days as applied to my case last time.
However, don't get too excited yet because the ads network has certain requirements in terms of advertising guidelines and account policies, which ensure publishers will abide by those rules. In particular, Adsense program policies will cover everything from A to Z regarding the terms and conditions that tell you some things you can and can not do. Please ensure you read and get familiar with that essential information.
Here is the list of Adsense account approval processes that contain a few significant steps:
Your site has unique content, which has over 25 posts.

Content must be original and no copy.

Your site must include a privacy policy and an about page, etc.

Regularly update fresh content.

Start the application by signing up for an account.

The approval time will take up to 2 weeks.

After getting approved, place the AdSense code on your blog ( Adsense login).

The site structure must be well-organized and easy to navigate (mobile-friendly)

Always read and follow Google Adsense policies to know what you can do to create quality content.

Your site must have an SSL certificate and secure TLS.
Google will notify you via email upon successfully getting approved. You can manage to show ads on your site, which is either manual ad setting or letting the platform displace ads on your site.
Step by step to get the Adsense account approval
Google will take up to 2 weeks to review your application ( it may respond faster within 48 hours ). If your site has satisfied all requirements, then the team will send you a " congratulation" email, which means you are free to displace ads on your blog and make money from it.
For further information, go to the eligibility requirements and get familiar with all the important points before applying for the monetization program with Adsense.
Here is a list of step-by-step guides to help you get started with Google Adsense. But, you need to create an account taking applications with them before showing ads on your blog.
The first and foremost important is to sign up with Google Adsense. Use your email address to create an Adsense account by simply filling down the application form (including your name, email address, personal address, and other general information).
The next step is to put your site for review before the platform will send you a confirmation email about whether your site is ready to show ads.
At this stage, you need to get familiar with manual or auto ads, which you either use one of them set on your blog.
Once your site gets approved, you must copy and place the Adsense code on your site header tag. It may take up to 48 hours for your site to show ads.
Adsense login: publishers should log in to their account to see if there are any issues such as Ads. text as it will impact your earnings in the future.
The solution for those common errors is to install the plugin called " Insert Header and Footers". The plugin allows publishers to paste Ads. Text file and Adsense code on its header section. Thus, it won't take too much of your time to figure out whether to displace those codes on your site's theme
Until your site reaches $10 earnings, Google will run a clarification check by sending A Pin to your address. Your job is to place the Pin on your Adsense account.
In terms of payments, the platform will make a transaction to your local bank account once your site reaches $100. The payment will take at the end of each month.
Tips to avoid Adsense account cancellation
Monetizing your blog is one of the best passive income ideas as it not only brings some recurring cash flow to your business but also makes money while you sleep.
For this reason, your site mustn't violate any terms and conditions as it's vital to follow the program policies. Here is a " Don't Do List" that you must follow to maintain your site working with Adsense.
Buying traffic is prohibited, publishers' accounts will be canceled or suspended if they found they bought traffic.

The content must be genuine and unique.

Do not copy-paste to create content.

Last but not least, do not place ads on content that doesn't exist 
Conclusion
You have gone through all the important aspects, which help to increase the chance of getting approval from Google. However, you must follow the program guidelines to avoid any violation of terms and conditions, which may lead to account cancelation or suspension.
Read next: 
> 6 Ways to Earn Money Online Using A WordPress Blog
> Is AdSense Worth It? Key Facts You Should Know
> How to Increase Google Adsense CPC
Don't forget to share the article with others if you find it helpful.